Clipping Path Service is a photo editing technique to isolate pixel-perfect background from an image. With the help of using a pen tool to draw around the edges of your product images, we can make them stand out.
Before
After
What is the
photo clipping path

service?
Photo clipping service is a service that helps you get rid of things in photos. Our image cut-out service will help you remove the backgrounds of an image and add a pure white background. So that you can see what the rest of it looks like for you. Hence this can be used to improve the value of photos and make them ready for print publishing.
Type of photoshop clipping paths
There are many paths, but a primary clipping path is best for those with a simple image category that can be done in under 5 minutes. For example, a photo with a cup of coffee or a glass of water that needs to be clipped from it.
For this photo cut service, we need 10 to 20 minutes to complete each image. We will need to , cut out 3 or 4 images completely from their backgrounds, even though there will be many objects in each image. We will also add a white background and soft drop shadow.
Our capacity and time for this type of job is a lot more than we can handle by ourselves. The following image shows what our results will look like when completed.
Super Complex Clipping Path
This path will take the most time since it is time-intensive work. We need at least one hour or above to finish all the paths. Although a super complex path with lots of details and curves could take up to 30 minutes. In this situation we make plan and work on multiple layers to make paths.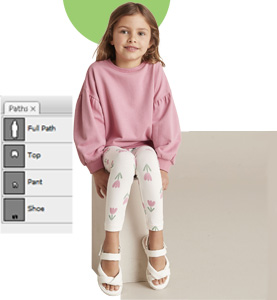 Multi Clipping Path is an important service that helps clip and cut out essential pieces of an image simultaneously in the paths panel. This process is similar as to a clipping path, where 2 to 20 paths can be created. Our clients can make several layers for each object type in the layer panel for quick editing at this instant.
In this situation, the photo can be separated into two or more pieces. This is the best service ever if you need to cut out many objects from a photo.
Best ecommerce image editing service provider for ever.
Firstly Clipp Out Line offers top-notch ecommerce image editing services on the whole. Contrarily, our expert editors will creat beautiful images to make your online store stand out to the end that.
However, we specialize in background extraction, color adjustment, object removal, retouching, resizing, etc services without a doubt. Nevertheless we guarantee the fast turnaround time, and our low prices make us a go-to choose for any company wanting to boost their online sales.
How we can be your best clipping path service company?
At our company, we offer a wide range of services to help improve your digital photography. We understand the most importance of quick turnaround time and we make sure to meet all requirements to the end. Our production team and Quality Controllers (QC) are strictly responsible to provide the best services as well as without any compromise.
Obviously professional photographers are the ones who need to get their work done in a short period of time. However, with us you don't have to worry about this. Our professional clippingpathservice team will always come up with some innovative ideas for your project.
Have any clipping projects in mind?
No limitation, How big or small
How do we create a clipping path in Photoshop?
To create a best clipping path service in Photoshop, outlining an image to separate it from its background is called "clippingpath", "masking", or "isolating". To do this correct, we are using the Pen Tool to draw a vector path around the desired image. Simply following the steps below user can create paths at the beginning time.
1. Open the image in photoshop that wants to clip out and retouch.
2. Select the pen tool (P) in PS software from the tool menu.
3. Drag and draw a closed vector path around the edge.
4. Release the mouse button when finished with the shape that has been removed.
5. You can add new paths for the other edge.
6. Create new paths and repeat the above.
7. Choose your format.
8. Save path.
The Important of Photoshop Clipping Path Service
Although photoshop clipping path service is the first step of image editing fields. It helps you to extract any unwanted background and objects from the photos on the whole. You can select the areas you want to keep in the photo and remove the others without delay. The most common use of clipping paths is to eliminate a product's background and show it in front of a new background.
Benefits of using photo clipping path services